5 Days Wildebeest Migration Safari
TRIP OVERVIEW

Embark on a journey to witness two remarkable Wonders of the World in a single itinerary. This carefully crafted expedition seamlessly weaves the captivating spectacle of the Wildebeest Migration across the grand plains of the Serengeti with the awe-inspiring majesty of the Ngorongoro Conservation Area, a World Heritage site.

During this five-day Wildebeest Migration safari, you'll immerse yourself in the intricate movements of the expansive herd, all while exploring three of Tanzania's renowned national parks. The adventure commences either in Tarangire National Park, where you'll begin by traversing the dynamic landscapes of Africa before dedicating three days to tracking the Wildebeest Migration in the Serengeti National Park. Your expedition concludes within the Ngorongoro Conservation Area, a testament to the remarkable natural heritage of the region.
Day 1 - Arusha to Tarangire National Park

Embark on your journey after a hearty breakfast from Arusha. A scenic two-hour drive transports you to Tarangire National Park. En route, you'll traverse vibrant Masai villages and iconic open plains that evoke the essence of Africa. Upon entering Tarangire, an expanse of golden Savannah unfolds before you, adorned by the Tarangire River. This lifeline sustains the local wildlife throughout the year, drawing herds of elephants, zebras, and antelopes, which you'll encounter amid acacia and Baobab trees. A riverbank picnic offers a picturesque perspective, although the local monkey community may vie for your lunch. Lions, leopards, cape buffalo, and various antelopes populate the park, with the possibility of sighting rare creatures like the Greater Kudu or Fringe-Eared Oryx. The day culminates as you retire to your lodging.
Day 2 - Tarangire to Serengeti National Park

Embark on an early start, anticipating a day brimming with exploration and adventure. Your route to the Serengeti carries you through the mystical rainforests of the Ngorongoro Conservation Area, where glimpses of cape buffalo, baboons, and even elephants and leopards might grace your journey. After a delectable lunch at the Serengeti National Park picnic area, delve into the heart of the Serengeti. Behold the iconic African savannah, a canvas animated by a multitude of roaming creatures. Your day concludes with dinner and overnight rest, nestled within the Serengeti's embrace.
Day 3 - Serengeti National Park

Embrace the dawn with an early rise for a sunrise game drive. As the sun paints the Savannah, predators seize the opportune moment to hunt amidst the gentle light and cooler temperatures. Lions, leopards, cheetahs, and the morning movement of wildebeest and zebras may grace your sight. Alternatively, consider a sunrise hot air balloon safari for a unique vantage point. A rejuvenating breakfast precedes a day of adventure, tailored to maximize wildlife encounters.
Day 4 - Serengeti to Ngorongoro Conservation Area

Following breakfast, embark on a route through the Serengeti, affording additional opportunities to spot elusive creatures. The landscape dances with thousands of animals—graceful giraffes, bounding antelopes, mighty elephants, and the regal lion. Lean cheetahs, elusive leopards, and foraging hyenas may also greet your gaze. The day culminates with dinner and lodging either on the rim of the Ngorongoro Crater or in nearby Karatu Town.
Day 5 - Ngorongoro Crater to Arusha

Savor a final breakfast before departing for the remarkable Ngorongoro Crater, often hailed as the Eighth Wonder of the World. The vast caldera, visible from a panoramic viewpoint, reveals the area's unparalleled natural splendor. Home to over 120 mammal species, including the famed Big Five, the Ngorongoro Conservation Area stands as a coveted safari destination. Marvel at black rhinoceros, hippopotamuses, and an array of predators within this open-top vehicle expedition. A picnic lunch beside the famed hippo pool punctuates your day, after which you return to Arusha, laden with unforgettable memories of your safari odyssey.
Tour Includes & Excludes

Tour Includes

Transfers in both directions between the International Airport and Arusha
Accommodation in Arusha/Tanzania Safaris
Extended 4 x 4 safari jeep with pop-up roof for game viewing
Professional English, France, German Speaker safari guide
Entrance fees to all national parks and Crater fees
All meals while on safari and drinking water during the safari.
Government taxes

Tour Excludes 

Visa
Personal Expenses (e.g. laundry, telephone, beverages, etc.)
Optional Tours (balloon rides USD 550 per person)
Tips and gratuities to your safari guide and cook
Flight fare
Beverage
Do not hesitate to give us a call. We are an expert team and we are happy to talk to you.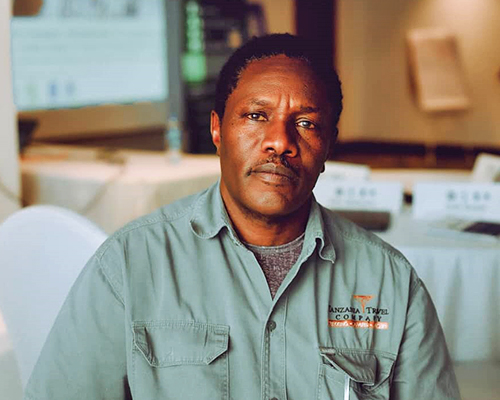 Sam Diah - Safari Expart
Book your dream Tanzania wildlife safari with sustainable local experts! Enjoy a lifetime thrill while supporting local communities and animal welfare. Start your adventure today with our custom itinerary
Verified
Kilimanjaro Lemosho route TTC were amazing throughout my trek to the Kilimanjaro summit in October 2022. Everything was organised so well but the really exceptional aspect was the team of local support staff and guide. AJ, Paul, Isaya, Joseph, Pascal, Renata and the 30 other fantastic people that carried, cooked, camped and cared for us. Absolutely loved every second, a trip of a lifetime, thank you 🙏
Verified
Once in a lifetime experience I climbed Kilimanjaro with the Tanzanian Travel Company (booked through Charity Challenge UK) in October 2022. Everything was superbly coordinated by TTC, who arranged everything from porters, transport, food, tents- pretty much everything we needed to get to the summit! All of the staff from the guides and porters were very friendly and their knowledge was unrivalled. Special mentions to our lead guide, Richard, who's advice was invaluable and the other guides and porters David, Eric and Joseph (there are too many to mention). Would definitely book again with TTC in the future.
Verified
Excellent experience I just got back from climbing My Kilimanjaro on a trip organised by Charity Challenge in the UK. All the ground arrangements in Tanzania were done through Tanzania Travel Company and I would highly recommend. Staff were all excellent, knowledgeable and friendly. It was a great trip and I'm considering organising a holiday for the family with TTC in the future.
Verified
Great company with excellent staff Climbed Kilimanjaro with the Tanzanian Travel Company at the end if July and the whole experience was superb. The guides, porters, cook, doctor & toilet man were unfailingly encouraging, helpful, cheerful and really seemed to enjoy their work. I would thoroughly recommend them.
Verified
An adventure you won't forget! The whole experience from start to finish was awesome and I most certainly won't forget it. From the hotel to the staff and porters who made our trek possible, the food was tasty and plentiful, we all felt like part of the team and very well looked after.I definitely recommend doing the Lemosho Route for a greater chance of acclimatisation. The summit night was by far the hardest part but well worth the effort (even I got emotional). I would urge everybody looking to climb Kilimanjaro to definitely train for a good 4-5 months before attempting this challenge, it will only enhance the mammoth achievement.
Verified
Fantastic time climbing Kilimanjaro thanks to TTC! I recently completed a climb of Kilimanjaro with a small group of 7, managed on behalf of Charity Challenge by Tanzania Travel Company. We had a fantastic (if gruelling) experience, and I cannot praise TTC highly enough. From the MD Sam and our chief guide Richard, through to every guide and porter who accompanied us (not forgetting Pius, our doctor), everyone combined the highest standards of professionalism with warmth and friendliness, and a genuine concern for both our well-being and our success in getting to the summit. Highly recommended.
Verified
Amazing family experience Excellent safari! Incredibly friendly and accommodating! I was having some difficulty finding a well priced thorough safari and was given a number by a family friend who highly recommended this safari company. As Tanzanians it's rare for us to be able to see a safari but Samuel helped guide us through a plan for a truly unforgettable experience. We hide an amazingly well educated guide and driver Kamau who went out of his way to get us some truly amazing shots. At one point we were literally 2-3 meters away from 3 young male lions, I was in shock at what Kamau could point out. Food provided was excellent Tanzanian cuisine. My little brothers(8 yr)first safari and he had a fantastic time Highly recommend as a Tanzanian.
Verified
Professional, organised, outstanding Tanzania travel company are a great company, incredibly professional and organised a comprehensive and well planned trip to Kilimanjaro. The communication and attention to detail were outstanding and I would highly recommend this company to any group heading to Tanzania. Suzie, International Mountain Leader (BAIML), Women with Altitude co-ordinator.
Verified
Excellent experience with TTC! Setting out to climb Mt Kilimanjaro was quite a challenge and the team at TTC made it a safe and enjoyable trip! They did an excellent job guiding us through each day of the climb. I also had the opportunity to go on a safari afterwards with a guide named Livingston and he did an absolutely fantastic job getting us close to the animals and knowing the best spots in the game drives. Highly recommend this incredible travel group!