6 DAYS KILIMANJARO UMBWE ROUTE
TRIP OVERVIEW

This is a 6 day Kilimanjaro hike starting at Umbwe Gate and ascending via Stella Point. Note that it joins the Machame route in the Barranco Valley, and hence has similar levels of people on trail as the Machame Route thereon. There is a night time ascent to the summit and descent is via Mweka Route.
Day 1: Umbwe Caves

START – 5,906FT / 1800M
END – 9,351FT / 2850M
DISTANCE – 7 MILES / 11KM
TIME – 5-7 HRS
CLIMATE ZONE – AFROMONTANE FOREST

After breakfast you depart by vehicle to Kilimanjaro National Park. Your first stop is atMachame Gate to collect your permits before getting back in your vehicle and driving to Umbwe Gate. After checking in you set off up through the forest zone. The first day hiking is not overly difficult but certainly steepens towards the latter end of the day. In the late afternoon you arrive in the first camp in time for dinner.
Day 2: Barranco Camp

START – 9,351FT / 2850M
END – 12,796FT / 3900M
DISTANCE – 4 MILES / 6KM
TIME – 4-6 HRS
CLIMATE ZONE – HEATH

The second day ascends from the forest zone into the heath zone and there are some very steep sections here. Taking it easy is essential to allow your body to acclimatise. A picnic lunch is taken on route. Later that afternoon you arrive into Barranco Camp in time to relax for a while before dinner. The views of the Barranco wall and Western breach pertain to events some 60,000 years ago when this whole part of the mountain collapsed.
Day 3: Karanga Camp

START – 12,796FT / 3900M
END – 13,108FT / 3995M
DISTANCE – 3 MILES / 5KM
TIME – 4-5 HRS
CLIMATE ZONE – ALPINE DESERT

From Barranco Camp, famous for its giant groundsels (Senecio species), you ascend the Barranco Wall and hike glacial valleys to Karanga Camp. Today is a relatively short day's hike and lunch is taken at Karanga camp. The afternoon is spent relaxing and acclimatising. In the evening a practice walk for the summit is taken to make sure you are completely comfortable with the kit you are going to summit in.
Day 4: Barafu Camp

START – 13,108 / 3,995M
END – 15,332FT / 4673M
DISTANCE – 2.5 MILES / 4KM
TIME – 4-5 HRS
CLIMATE ZONE – ALPINE DESERT

Today is another half day ascending to Barafu Camp. Once again lunch is taken in camp allowing plenty of time to relax before the summit bid. Desolate alpine desert and, at times, strong winds rip over this camp; yet in the evening splendid views of Mawenzi are the norm. A relatively early dinner is taken before heading to rest for the remainder of the evening.
Day 5: Kilimanjaro Summit / Mweka Camp

START – 15,332FT / 4673M
END – 10,171FT / 3100M
DISTANCE – 11 MILES / 18KM
TIME – 14-16 HRS
CLIMATE ZONES – ALPINE DESERT, ARCTIC, and HEATH

Most people depart just before midnight for the final summit bid. Patience and persistence are the name of game to reach the summit (Uhuru Peak: 19341ft, 5895m) and by dawn as the first rays of light start to appear, most arrive near the rim. Ascending via Stella Point (Alt: 18,865ft, 5750m) affords a relatively short final section to Uhuru Peak, the Roof of Africa! What goes up must come down however. The first stage is to get back to our base camp for a quick change of clothes and refuel before the long hike downhill to Mweka Camp. The downhill is hard on the knees and walking poles at this stage are highly recommended. You should reach Mweka Camp before dusk for your final night on the mountain.
Day 6: Arusha

START – 10,171FT / 3100M END – 5,381FT / 1640M DISTANCE – 6 MILES / 10KM TIME – 3-4 HRS CLIMATE ZONE – AFROMONTANE FOREST After breakfast you descend once again through afromontane forest and around midday, after lunch, diplomats' collection and saying farewell to your crew, you are picked up and transferred back to your lodge for a well-deserved shower! Later that evening you will be visited by a Tanzania Travel Representative to congratulate you, to find out how the trip went and to answer any final questions you may have about your onward journey.
Tour Includes & Excludes

Tour Includes

Park fees, (entry fee camping/hut fees & rescue fees crew fees)
18% VAT on tour fees & services
Three health and fresh meals
Professional and experienced mountain Guide
Professional and experienced cooks
Transportation to & from the airport
Transportation to & from the mountain gates
Enough number of porters for your luggage, food, water, and camping equipment
Food, shelters, and fair wages for the porters, cooks, and guides
Camping gears (sleeping tents, dining tents, tables, chairs, and cooking gear)
Radio and cell phone communication that help us to stay in contact within and outside the group therefore we can respond almost instantaneously to whatever issue that may arise
We provide our guides with professional first aids kits and pulse oximeters for daily updates of acclimatization progress
Assistance with climbing permit procedure

Tour Excludes

Personal porters
All international and domestic flights
Tourist Visas
Medical and Travel insurance
Tips to mountain crew
Mountain trekking gears e.g. walking poles (available for hire upon request)
Sleeping Bag (available for hire upon request)
A portable flush toilet with a toilet tent is extra (US$200 per toilet + toilet tent)
Others; Extra expenses as food or drinks separate from those described in the itinerary, satellite phone calls, transference fees, and other services not specified as included
Any other alterations to our itineraries
Emergency Oxygen
Do not hesitate to give us a call. We are an expert team and we are happy to talk to you.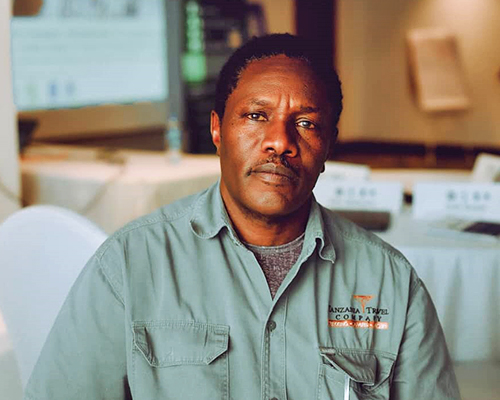 Sam Diah - Safari Expart
Book your dream Tanzania wildlife safari with sustainable local experts! Enjoy a lifetime thrill while supporting local communities and animal welfare. Start your adventure today with our custom itinerary
Verified
Kilimanjaro Lemosho route TTC were amazing throughout my trek to the Kilimanjaro summit in October 2022. Everything was organised so well but the really exceptional aspect was the team of local support staff and guide. AJ, Paul, Isaya, Joseph, Pascal, Renata and the 30 other fantastic people that carried, cooked, camped and cared for us. Absolutely loved every second, a trip of a lifetime, thank you 🙏
Verified
Once in a lifetime experience I climbed Kilimanjaro with the Tanzanian Travel Company (booked through Charity Challenge UK) in October 2022. Everything was superbly coordinated by TTC, who arranged everything from porters, transport, food, tents- pretty much everything we needed to get to the summit! All of the staff from the guides and porters were very friendly and their knowledge was unrivalled. Special mentions to our lead guide, Richard, who's advice was invaluable and the other guides and porters David, Eric and Joseph (there are too many to mention). Would definitely book again with TTC in the future.
Verified
Excellent experience I just got back from climbing My Kilimanjaro on a trip organised by Charity Challenge in the UK. All the ground arrangements in Tanzania were done through Tanzania Travel Company and I would highly recommend. Staff were all excellent, knowledgeable and friendly. It was a great trip and I'm considering organising a holiday for the family with TTC in the future.
Verified
Great company with excellent staff Climbed Kilimanjaro with the Tanzanian Travel Company at the end if July and the whole experience was superb. The guides, porters, cook, doctor & toilet man were unfailingly encouraging, helpful, cheerful and really seemed to enjoy their work. I would thoroughly recommend them.
Verified
An adventure you won't forget! The whole experience from start to finish was awesome and I most certainly won't forget it. From the hotel to the staff and porters who made our trek possible, the food was tasty and plentiful, we all felt like part of the team and very well looked after.I definitely recommend doing the Lemosho Route for a greater chance of acclimatisation. The summit night was by far the hardest part but well worth the effort (even I got emotional). I would urge everybody looking to climb Kilimanjaro to definitely train for a good 4-5 months before attempting this challenge, it will only enhance the mammoth achievement.
Verified
Fantastic time climbing Kilimanjaro thanks to TTC! I recently completed a climb of Kilimanjaro with a small group of 7, managed on behalf of Charity Challenge by Tanzania Travel Company. We had a fantastic (if gruelling) experience, and I cannot praise TTC highly enough. From the MD Sam and our chief guide Richard, through to every guide and porter who accompanied us (not forgetting Pius, our doctor), everyone combined the highest standards of professionalism with warmth and friendliness, and a genuine concern for both our well-being and our success in getting to the summit. Highly recommended.
Verified
Amazing family experience Excellent safari! Incredibly friendly and accommodating! I was having some difficulty finding a well priced thorough safari and was given a number by a family friend who highly recommended this safari company. As Tanzanians it's rare for us to be able to see a safari but Samuel helped guide us through a plan for a truly unforgettable experience. We hide an amazingly well educated guide and driver Kamau who went out of his way to get us some truly amazing shots. At one point we were literally 2-3 meters away from 3 young male lions, I was in shock at what Kamau could point out. Food provided was excellent Tanzanian cuisine. My little brothers(8 yr)first safari and he had a fantastic time Highly recommend as a Tanzanian.
Verified
Professional, organised, outstanding Tanzania travel company are a great company, incredibly professional and organised a comprehensive and well planned trip to Kilimanjaro. The communication and attention to detail were outstanding and I would highly recommend this company to any group heading to Tanzania. Suzie, International Mountain Leader (BAIML), Women with Altitude co-ordinator.
Verified
Excellent experience with TTC! Setting out to climb Mt Kilimanjaro was quite a challenge and the team at TTC made it a safe and enjoyable trip! They did an excellent job guiding us through each day of the climb. I also had the opportunity to go on a safari afterwards with a guide named Livingston and he did an absolutely fantastic job getting us close to the animals and knowing the best spots in the game drives. Highly recommend this incredible travel group!