8 Days Kenya and Tanzania Adventure
TRIP OVERVIEW

For those whose travels begin and end in Kenya who want to experience Tanzania's majesty for themselves, our eight-day round trip safari is the perfect option. You'll head to Tanzania via Amboseli National Park, pay visits to some of Tanzania's most famous national parks including the Serengeti and Ngorongoro, and return to Nairobi for your onward travel. It's the best way to take advantage of Nairobi's cheaper flights while still seeing the best Tanzania has to offer.
Day 1: Nairobi - Amboseli National Park

Embarking from Nairobi following a hearty breakfast, your journey will lead you southward across the captivating Masai lands of the Athi Plains. The culmination of this route will bring you to Amboseli National Park, where you'll arrive in time to indulge in either a park-side picnic lunch or a hot and satisfying meal at your chosen lodge.

With your energy replenished, an afternoon game drive awaits. Amidst this adventure, you'll bear witness to a panorama of natural marvels – herds of wildebeest and zebras, majestic lions, elusive hyenas, an array of antelopes, and among Kenya's most magnificent sights, large congregations of elephants. All of this unfolds against the awe-inspiring backdrop of the iconic Mount Kilimanjaro.

As daylight fades, your day's exploration will draw to a close, leading you to your lodge where a delectable dinner awaits, providing a fitting conclusion to your enthralling day.
Day 2: Amboseli National Park - Arusha

Upon your arrival at Kilimanjaro International Airport, our friendly guide will meet you and transport you to Tarangire National Park. Once settled into your mid-range lodge, you'll embark on an afternoon game drive to explore the park's beauty. Tarangire is known for its majestic baobab trees and high density of elephants, making it a paradise for wildlife enthusiasts. End your day with a captivating sunset dinner overlooking the Tanzanian plains.
Day 3: Arusha - Lake Manyara National Park

After indulging in a satisfying breakfast in Arusha, your day's adventure will commence with a journey towards Lake Manyara National Park. The drive, spanning approximately two hours, will take you through the charming market town of Mto Wa Mbu. Along this route, you'll find an agricultural and fresh produce market that serves as a vibrant tapestry of local cultures and a haven for souvenir enthusiasts.

A brief halt at the village market will precede your entry into Lake Manyara National Park. This sanctuary stands as a veritable haven for photographers, presenting an abundance of game viewing opportunities that rank among the world's finest. Anticipate encounters with a multitude of Africa's most renowned animals, including a remarkable highlight – the tree-climbing lions. These regal predators recline on acacia trees, seemingly inviting their portraits to be captured.

For bird aficionados, Lake Manyara proves to be an unadulterated delight, showcasing a diverse assortment of avian species. Even those new to bird-watching can anticipate astonishment at the sight of sprawling flocks of flamingos, soaring birds of prey, and the vividly colored lilac-breasted roller.

As the day's adventures draw to a close, you'll retreat to your chosen lodging for a sumptuous dinner and a restful night's sleep, ensuring you are well-prepared for the days of exploration that lie ahead.
Day 4: Lake Manyara National Park - Serengeti National Park

Following a delectable lunch at the picnic area within Serengeti National Park, the moment arrives to delve into the heart of this extraordinary landscape. Prepare to be entranced by Africa's quintessential savannah panorama and astounded by the vast multitude of creatures that wander freely across these expansive grasslands.

As the sun sets, you'll retreat to your lodging, nestled within the very core of Serengeti National Park. The specifics of your accommodation and standard will be tailored according to your preferences from our diverse range of options. Here, you'll revel in a satisfying dinner before retiring for the night, enveloped in the natural wonders of the Serengeti.
Day 5: Serengeti National Park

Awaken at daybreak to seize a rare chance – embark on a sunrise game drive through the Serengeti, an experience of a lifetime. As the sun ascends, igniting the savannah in its glow, you'll trail the movements of lions, leopards, and cheetahs as they embark on their early morning quest for sustenance.

Following a leisurely breakfast, a captivating day beckons. Armed with a picnic lunch, you'll journey into the park, delving into a full day of exploration within the world's most renowned safari destination. Traverse through expansive herds of wildebeest and zebra, glimpse towering elephants and giraffes, and stand in awe as prides of lions bask on the iconic kopjes of the Serengeti.

This remarkable day concludes with an overnight stay within the park's confines, granting you the privilege of dwelling within the heart of this extraordinary wilderness.
Day 6: Serengeti National Park - Ngorongoro

Following breakfast, we promptly set out on the journey back toward the captivating Ngorongoro Crater National Park.

Our route retraces our steps through the Serengeti, this time embracing an alternative path that teems with opportunities to spot the elusive inhabitants that might have eluded you on the second day. Stretching as far as your eyes can reach, you'll be met with the spectacular sight of numerous animals in herds: wildebeests and zebras migrating side by side, stately and graceful giraffes, bounding antelopes and gazelles, the commanding African elephant, and the highly esteemed assembly of predators.

During this leg of the journey, you'll have the privilege of spotting slender cheetahs and elusive leopards, scavenging hyenas, and, as a crowning touch, the ultimate sovereign of the wilderness – the lion.

The day concludes with dinner and your overnight stay, either perched on the rim of the Ngorongoro Crater or nestled within the neighboring town of Karatu. The particulars of your stay, including standard and accommodation type, align with your individual preferences as selected from our range of options.
Day 7: Ngorongoro - Arusha

Following breakfast, your expedition commences as you set forth for the Ngorongoro Crater, a geological marvel esteemed by some as the Eighth Wonder of the World. As your eyes take in the sprawling, verdant caldera from the panoramic vantage point, the rationale behind its illustrious reputation becomes undeniably apparent.

The Ngorongoro Conservation Area, abode to a staggering array of over 120 mammal species – including the legendary Big Five, stands as one of the globe's most coveted safari destinations. This sanctuary offers a distinct opportunity to observe the endangered black rhinoceros, indulging in solitary meals on the grassy plains, alongside expansive gatherings of hippopotami finding solace in the cooling waters.

Within the confines of your open-top vehicle, you'll be granted the privilege to observe and capture the essence of some of Africa's most iconic visages. The crater provides habitat to an array of predators, encompassing lions, leopards, cheetahs, jackals, and hyenas. Furthermore, the region supports substantial populations of wildebeests, zebras, antelopes, cape buffalo, and more. Evidently, it stands as one of Africa's foremost safari destinations.

Post the day's exhilaration, a picnic lunch by the park's renowned hippo pool awaits. Subsequently, you'll journey back to Arusha, with the evening sun casting its warm glow, bringing this day of thrills and adventure to a close.
Day 8: Arusha - Nairobi

After breakfast, your driver will drive you to the Namanga border where you'll switch cars for the journey back to Nairobi.
Tour Includes & Excludes

Tour Includes

Extended 4 x 4 safari jeep with pop-up roof for game viewing
Professional English, France, German Speaker safari guide
Entrance fees
All meals while on safari and drinking water during the safari
Government taxes

Tour Excludes          

Visa
Personal Expenses (e.g. laundry, telephone, beverages, etc.)
Tips and gratuities to your safari guide and cook
Flight fare
Beverage
Do not hesitate to give us a call. We are an expert team and we are happy to talk to you.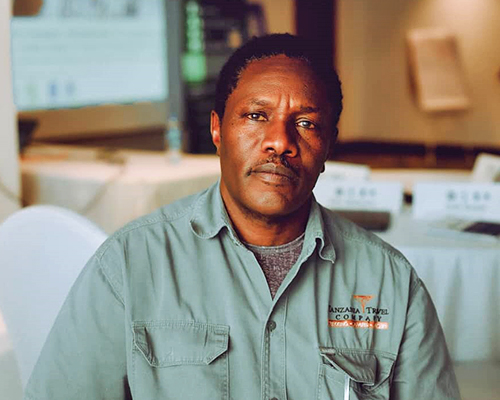 Sam Diah - Safari Expart
Book your dream Tanzania wildlife safari with sustainable local experts! Enjoy a lifetime thrill while supporting local communities and animal welfare. Start your adventure today with our custom itinerary
Verified
Kilimanjaro Lemosho route TTC were amazing throughout my trek to the Kilimanjaro summit in October 2022. Everything was organised so well but the really exceptional aspect was the team of local support staff and guide. AJ, Paul, Isaya, Joseph, Pascal, Renata and the 30 other fantastic people that carried, cooked, camped and cared for us. Absolutely loved every second, a trip of a lifetime, thank you 🙏
Verified
Once in a lifetime experience I climbed Kilimanjaro with the Tanzanian Travel Company (booked through Charity Challenge UK) in October 2022. Everything was superbly coordinated by TTC, who arranged everything from porters, transport, food, tents- pretty much everything we needed to get to the summit! All of the staff from the guides and porters were very friendly and their knowledge was unrivalled. Special mentions to our lead guide, Richard, who's advice was invaluable and the other guides and porters David, Eric and Joseph (there are too many to mention). Would definitely book again with TTC in the future.
Verified
Excellent experience I just got back from climbing My Kilimanjaro on a trip organised by Charity Challenge in the UK. All the ground arrangements in Tanzania were done through Tanzania Travel Company and I would highly recommend. Staff were all excellent, knowledgeable and friendly. It was a great trip and I'm considering organising a holiday for the family with TTC in the future.
Verified
Great company with excellent staff Climbed Kilimanjaro with the Tanzanian Travel Company at the end if July and the whole experience was superb. The guides, porters, cook, doctor & toilet man were unfailingly encouraging, helpful, cheerful and really seemed to enjoy their work. I would thoroughly recommend them.
Verified
An adventure you won't forget! The whole experience from start to finish was awesome and I most certainly won't forget it. From the hotel to the staff and porters who made our trek possible, the food was tasty and plentiful, we all felt like part of the team and very well looked after.I definitely recommend doing the Lemosho Route for a greater chance of acclimatisation. The summit night was by far the hardest part but well worth the effort (even I got emotional). I would urge everybody looking to climb Kilimanjaro to definitely train for a good 4-5 months before attempting this challenge, it will only enhance the mammoth achievement.
Verified
Fantastic time climbing Kilimanjaro thanks to TTC! I recently completed a climb of Kilimanjaro with a small group of 7, managed on behalf of Charity Challenge by Tanzania Travel Company. We had a fantastic (if gruelling) experience, and I cannot praise TTC highly enough. From the MD Sam and our chief guide Richard, through to every guide and porter who accompanied us (not forgetting Pius, our doctor), everyone combined the highest standards of professionalism with warmth and friendliness, and a genuine concern for both our well-being and our success in getting to the summit. Highly recommended.
Verified
Amazing family experience Excellent safari! Incredibly friendly and accommodating! I was having some difficulty finding a well priced thorough safari and was given a number by a family friend who highly recommended this safari company. As Tanzanians it's rare for us to be able to see a safari but Samuel helped guide us through a plan for a truly unforgettable experience. We hide an amazingly well educated guide and driver Kamau who went out of his way to get us some truly amazing shots. At one point we were literally 2-3 meters away from 3 young male lions, I was in shock at what Kamau could point out. Food provided was excellent Tanzanian cuisine. My little brothers(8 yr)first safari and he had a fantastic time Highly recommend as a Tanzanian.
Verified
Professional, organised, outstanding Tanzania travel company are a great company, incredibly professional and organised a comprehensive and well planned trip to Kilimanjaro. The communication and attention to detail were outstanding and I would highly recommend this company to any group heading to Tanzania. Suzie, International Mountain Leader (BAIML), Women with Altitude co-ordinator.
Verified
Excellent experience with TTC! Setting out to climb Mt Kilimanjaro was quite a challenge and the team at TTC made it a safe and enjoyable trip! They did an excellent job guiding us through each day of the climb. I also had the opportunity to go on a safari afterwards with a guide named Livingston and he did an absolutely fantastic job getting us close to the animals and knowing the best spots in the game drives. Highly recommend this incredible travel group!