TRIP OVERVIEW

Frequently, safari plans overlook the presence of children as part of the journey. Although youngsters can indeed relish game drives, at Shadows of Africa, we've crafted this itinerary to guarantee that both adults and children depart Kenya with cherished moments. We acknowledge that parents deserve moments of relaxation, while children require opportunities to revel in fun and expend energy beyond the confines of a safari vehicle. With this understanding, we've carefully tailored this itinerary to accommodate these needs.
Day 1: Nairobi City Tour

Commence your safari adventure with a captivating visit to Nairobi's renowned Animal Orphanage. Nestled within Nairobi National Park, this sanctuary was established as a haven and rehabilitation center, now providing refuge to over twenty distinct animal and bird species. Regardless of age, all visitors will have the unique opportunity to forge a close bond with these creatures through an intimate encounter.

Later in the morning, at 11 am, your journey will lead you to the David Sheldrick Elephant Orphanage. Witness the heartwarming sight of these endearing baby elephants engaging in exercises, feeding, and bathing as they progress through their rehabilitation. Both you and your children will be enthralled by this heartening experience.

Your next destination is the Giraffe Centre, where the focus is on conserving the Rothschild Giraffe. The elevated feeding platform at the centre allows you to engage in eye-level interactions with these majestic creatures as they dine. Notably, children have the chance to personally feed one of these magnificent giraffes. Moreover, as you explore the beautiful surroundings of the Giraffe Centre, you may encounter some of its taller residents during your stroll.

Following a satisfying lunch, it's time to venture to Mamba Village for an exploration of their Crocodile Farm and a delightful encounter with the Masai Ostrich population. Mamba Village offers a range of activities including fishing, cycling, and swimming – the choice is yours to make!
Day 2: Nairobi - Ol Pejeta Conservancy

Following breakfast, you will set forth from Nairobi, embarking on a journey towards the Ol Pejeta Conservancy, sometimes referred to as Sweet Waters. En route, the scenic drive will take you through vibrant tea and coffee plantations, and as you traverse the equator, you'll transition from the southern hemisphere to the northern hemisphere.

Upon reaching Sweet Waters, a delectable lunch will be served, fortifying you for the adventure ahead. Your next step is an exhilarating game drive within the park. During this drive, you'll pause at the renowned Chimpanzee Sanctuary for a guided tour. Here, you'll have the unique privilege of meeting the sanctuary's highly endangered and remarkably intelligent inhabitants, all while being guided by a specially trained ranger.

As part of your game drive, you'll also visit the Morani Centre to encounter Baraka, the celebrated and gentle rhino that the conservancy has nurtured. Baraka, a blind rhino relocated to the conservancy for safety reasons, stands as an approachable and heartwarming sight. Visitors even have the chance to participate in his feeding, offered at various times throughout the day.

Concluding these enlightening visits, your afternoon will be punctuated with a park drive, aimed at seeking out the iconic members of the Big Five – leopards, lions, elephants, rhinos, and buffalo – as you traverse through the park's terrain.
Day 3: Ol Pejeta Conservancy

While parents embark on a full-day game drive within the park, the kids can enjoy an array of exciting activities back at Sweet Waters. This includes options like camel riding, horseback riding, swimming, and more to keep them engaged and entertained throughout the day.
Day 4: Ol Pajeta Conservancy - Lake Naivasha

Leaving behind Ol Pejeta, your journey will lead you to the enchanting shores of Lake Naivasha.

Nestled on the rim of the Great Rift Valley, Lake Naivasha is a pristine freshwater lake renowned for its vibrant avian population. This picturesque area is also inhabited by various animals, including graceful giraffes, robust buffalo, and the lively velvet and colobus monkeys.

Your day at the lake encompasses a guided boat safari, where you'll venture out onto the tranquil waters to witness the presence of hippos and an array of water birds. Additionally, you'll have the opportunity to explore the Crescent Island Sanctuary. Here, you and your children can embark on a unique walk alongside zebras, giraffes, antelopes, and other captivating wildlife species.
Day 5: Lake Naivasha - Masai Mara

No Kenyan safari is complete without an expedition to the legendary Masai Mara.

Following breakfast, your journey will take you from Lake Naivasha towards the iconic Masai Mara. Often referred to as the abode of the Eighth Wonder of the World, the Great Wildebeest Migration, the Masai Mara holds a special place in the hearts of wildlife enthusiasts.

Irrespective of the time of year, the park promises sightings of a remarkable array of wildlife, encompassing lions, leopards, elephants, giraffes, zebras, wildebeest, cheetahs, and more. During specific months, coinciding with the Wildebeest Migration, the park transforms into a bustling hub as over 1.7 million wildebeest and 500,000 zebras grace its landscapes.

After indulging in a satisfying lunch at your lodge, your afternoon will be dedicated to a game drive within the park.
Day 6: Masai Mara

You hold the choice to awaken before dawn, immersing yourself in an unforgettable sunrise game drive within the park. The savannah takes on a breathtaking beauty as the sun's rays set it ablaze, while the cool morning air invigorates predators like lions and leopards, making them particularly active.

Alternatively, a different path awaits: you can take to the skies through an optional hot air balloon safari at dawn. Ascend to 1,000 feet and relish an awe-inspiring panorama of the park and the sun's emergence. Your descent concludes with a champagne breakfast savored upon the sprawling savannah.

After your morning meal, you can either unwind at the lodge until lunchtime before embarking on a game drive, or opt for a picnic lunch and embark on a full-day exploration of the park. This venture might involve tracking the Wildebeest Migration and seeking out the remarkable Big Five.

For your young ones, the lodge offers optional children's activities, including engaging in Masai cultural experiences like spear throwing, archery, guided nature walks, and learning the art of fire lighting the Masai way.

As the day evolves into evening, you're invited to partake in a captivating display of traditional Masai dance by the bonfire. Participation is not only welcomed but encouraged!
Day 7: Masai Mara - Nairobi

Bid your farewells as you make your way back to Nairobi, where a farewell lunch awaits at Kenya's renowned dining establishment, Carnivore. This unique experience presents you with the opportunity to savor game steaks or indulge in traditional Kenyan delicacies.

Subsequently, you'll be seamlessly transferred to the airport, setting the stage for your onward journey.
Tour Includes & Excludes

Tour Includes

Extended 4 x 4 safari jeep with pop-up roof for game viewing
Professional English, France, German Speaker safari guide
Entrance fees
All meals while on safari and drinking water during the safari
Government taxes

Tour Excludes

Visa
Personal Expenses (e.g. laundry, telephone, beverages, etc.)
Tips and gratuities to your safari guide and cook
Flight fare
Beverage
Do not hesitate to give us a call. We are an expert team and we are happy to talk to you.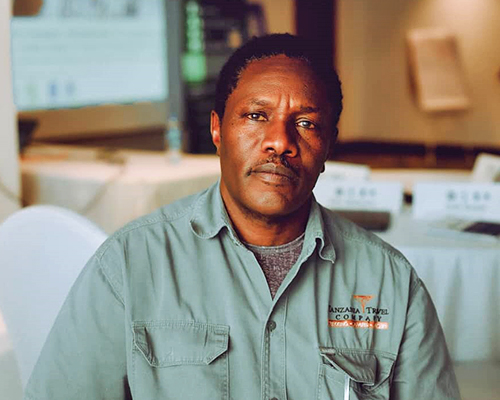 Sam Diah - Safari Expart
Book your dream Tanzania wildlife safari with sustainable local experts! Enjoy a lifetime thrill while supporting local communities and animal welfare. Start your adventure today with our custom itinerary
Verified
Kilimanjaro Lemosho route TTC were amazing throughout my trek to the Kilimanjaro summit in October 2022. Everything was organised so well but the really exceptional aspect was the team of local support staff and guide. AJ, Paul, Isaya, Joseph, Pascal, Renata and the 30 other fantastic people that carried, cooked, camped and cared for us. Absolutely loved every second, a trip of a lifetime, thank you 🙏
Verified
Once in a lifetime experience I climbed Kilimanjaro with the Tanzanian Travel Company (booked through Charity Challenge UK) in October 2022. Everything was superbly coordinated by TTC, who arranged everything from porters, transport, food, tents- pretty much everything we needed to get to the summit! All of the staff from the guides and porters were very friendly and their knowledge was unrivalled. Special mentions to our lead guide, Richard, who's advice was invaluable and the other guides and porters David, Eric and Joseph (there are too many to mention). Would definitely book again with TTC in the future.
Verified
Excellent experience I just got back from climbing My Kilimanjaro on a trip organised by Charity Challenge in the UK. All the ground arrangements in Tanzania were done through Tanzania Travel Company and I would highly recommend. Staff were all excellent, knowledgeable and friendly. It was a great trip and I'm considering organising a holiday for the family with TTC in the future.
Verified
Great company with excellent staff Climbed Kilimanjaro with the Tanzanian Travel Company at the end if July and the whole experience was superb. The guides, porters, cook, doctor & toilet man were unfailingly encouraging, helpful, cheerful and really seemed to enjoy their work. I would thoroughly recommend them.
Verified
An adventure you won't forget! The whole experience from start to finish was awesome and I most certainly won't forget it. From the hotel to the staff and porters who made our trek possible, the food was tasty and plentiful, we all felt like part of the team and very well looked after.I definitely recommend doing the Lemosho Route for a greater chance of acclimatisation. The summit night was by far the hardest part but well worth the effort (even I got emotional). I would urge everybody looking to climb Kilimanjaro to definitely train for a good 4-5 months before attempting this challenge, it will only enhance the mammoth achievement.
Verified
Fantastic time climbing Kilimanjaro thanks to TTC! I recently completed a climb of Kilimanjaro with a small group of 7, managed on behalf of Charity Challenge by Tanzania Travel Company. We had a fantastic (if gruelling) experience, and I cannot praise TTC highly enough. From the MD Sam and our chief guide Richard, through to every guide and porter who accompanied us (not forgetting Pius, our doctor), everyone combined the highest standards of professionalism with warmth and friendliness, and a genuine concern for both our well-being and our success in getting to the summit. Highly recommended.
Verified
Amazing family experience Excellent safari! Incredibly friendly and accommodating! I was having some difficulty finding a well priced thorough safari and was given a number by a family friend who highly recommended this safari company. As Tanzanians it's rare for us to be able to see a safari but Samuel helped guide us through a plan for a truly unforgettable experience. We hide an amazingly well educated guide and driver Kamau who went out of his way to get us some truly amazing shots. At one point we were literally 2-3 meters away from 3 young male lions, I was in shock at what Kamau could point out. Food provided was excellent Tanzanian cuisine. My little brothers(8 yr)first safari and he had a fantastic time Highly recommend as a Tanzanian.
Verified
Professional, organised, outstanding Tanzania travel company are a great company, incredibly professional and organised a comprehensive and well planned trip to Kilimanjaro. The communication and attention to detail were outstanding and I would highly recommend this company to any group heading to Tanzania. Suzie, International Mountain Leader (BAIML), Women with Altitude co-ordinator.
Verified
Excellent experience with TTC! Setting out to climb Mt Kilimanjaro was quite a challenge and the team at TTC made it a safe and enjoyable trip! They did an excellent job guiding us through each day of the climb. I also had the opportunity to go on a safari afterwards with a guide named Livingston and he did an absolutely fantastic job getting us close to the animals and knowing the best spots in the game drives. Highly recommend this incredible travel group!