5 Days Tanzania Mid-range Safari Tour
TRIP OVERVIEW

Embark on the ultimate adventure with our 5-day Tanzania mid-range safari tour! This once in a lifetime experience will take you on an unforgettable exploration of the three most prominent national parks on the northern safari circuit of Tanzania. Over the course of five days, you will have the opportunity to discover the incredible diversity of wildlife, birdlife, and flora that these parks are well-known for.

Our expert guides will lead you through Tarangire National Park, world-famous for its large elephant population and baobab trees, as well as the iconic Serengeti National Park, where you will witness the annual wildebeest migration in all its glory. In addition, you will visit the breathtaking Ngorongoro Crater, known for its stunning landscapes and rich concentration of wildlife.

This is a remarkable opportunity to immerse yourself in Tanzania's culture, history, and natural beauty. Don't miss out on the adventure of a lifetime!
Day 1: Arrival - Tarangire National Park

Upon your arrival at Kilimanjaro International Airport, our friendly guide will meet you and transport you to Tarangire National Park. Once settled into your mid-range lodge, you'll embark on an afternoon game drive to explore the park's beauty. Tarangire is known for its majestic baobab trees and high density of elephants, making it a paradise for wildlife enthusiasts. End your day with a captivating sunset dinner overlooking the Tanzanian plains.
Day 2: Full Day - Tarangire Nationa Park

Wake up to a hearty breakfast before setting out on a full-day game drive. You'll spend the day spotting diverse wildlife, including elephants, zebras, wildebeest, giraffes, and even elusive predators like lions and leopards. Our guides will share their expansive knowledge about the local ecosystem and wildlife. A packed lunch will be served in the heart of the park, letting you dine with nature as your backdrop. As dusk falls, return to the lodge for dinner and relaxation under the starlit African sky.
Day 3: Tarangire - Serengeti National Park

After breakfast, we'll begin our journey to the world-renowned Serengeti National Park. You'll enjoy an en-route game drive, witnessing the start of the awe-inspiring wildebeest migration. Once at the park, you'll settle into your lodge before heading out for an evening game drive. Look out for the "Big Five" (elephants, lions, leopards, buffalos, and rhinoceros), as well as the countless wildebeest and zebra migrating. End your day with a tranquil sunset and an exquisite dinner at the lodge.
Day 4: Serengeti - Ngorongooro Crater

After an early breakfast and a sunrise game drive, you'll depart for the Ngorongoro Conservation Area. Enjoy your lunch overlooking the magnificent Ngorongoro Crater, known as the "Garden of Eden" due to its concentration of wildlife. In the afternoon, you'll descend 600 meters into the crater for a game drive. This UNESCO World Heritage Site is home to almost every species of wildlife indigenous to East Africa, including the rare black rhino. In the late afternoon, you will ascend and transferred to your lodge for dinner and overnight stay
Day 5: Departure Day

After an early breakfast, our path leads us back to the airport where our safari finds its conclusion. This expedition will etch enduring memories of Tanzania's unparalleled natural allure and the captivating inhabitants that inhabit its realms.
Tour Includes & Excludes

Tour Includes

Transfers in both directions between the International Airport and Arusha
Accommodation in Arusha/Tanzania Safaris
Extended 4 x 4 safari jeep with pop-up roof for game viewing
Professional English, France, German Speaker safari guide
Entrance fees to all national parks and Crater fees
All meals while on safari and drinking water during the safari.
Government taxes

Tour Excludes 

Visa
Personal Expenses (e.g. laundry, telephone, beverages, etc.)
Optional Tours (balloon rides USD 550 per person)
Tips and gratuities to your safari guide and cook
Flight fare
Beverage
Do not hesitate to give us a call. We are an expert team and we are happy to talk to you.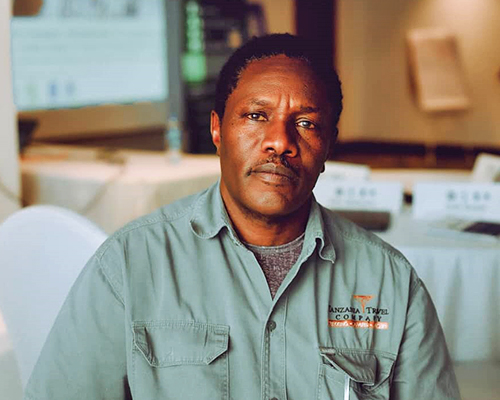 Sam Diah - Safari Expart
Book your dream Tanzania wildlife safari with sustainable local experts! Enjoy a lifetime thrill while supporting local communities and animal welfare. Start your adventure today with our custom itinerary
Verified
Kilimanjaro Lemosho route TTC were amazing throughout my trek to the Kilimanjaro summit in October 2022. Everything was organised so well but the really exceptional aspect was the team of local support staff and guide. AJ, Paul, Isaya, Joseph, Pascal, Renata and the 30 other fantastic people that carried, cooked, camped and cared for us. Absolutely loved every second, a trip of a lifetime, thank you 🙏
Verified
Once in a lifetime experience I climbed Kilimanjaro with the Tanzanian Travel Company (booked through Charity Challenge UK) in October 2022. Everything was superbly coordinated by TTC, who arranged everything from porters, transport, food, tents- pretty much everything we needed to get to the summit! All of the staff from the guides and porters were very friendly and their knowledge was unrivalled. Special mentions to our lead guide, Richard, who's advice was invaluable and the other guides and porters David, Eric and Joseph (there are too many to mention). Would definitely book again with TTC in the future.
Verified
Excellent experience I just got back from climbing My Kilimanjaro on a trip organised by Charity Challenge in the UK. All the ground arrangements in Tanzania were done through Tanzania Travel Company and I would highly recommend. Staff were all excellent, knowledgeable and friendly. It was a great trip and I'm considering organising a holiday for the family with TTC in the future.
Verified
Great company with excellent staff Climbed Kilimanjaro with the Tanzanian Travel Company at the end if July and the whole experience was superb. The guides, porters, cook, doctor & toilet man were unfailingly encouraging, helpful, cheerful and really seemed to enjoy their work. I would thoroughly recommend them.
Verified
An adventure you won't forget! The whole experience from start to finish was awesome and I most certainly won't forget it. From the hotel to the staff and porters who made our trek possible, the food was tasty and plentiful, we all felt like part of the team and very well looked after.I definitely recommend doing the Lemosho Route for a greater chance of acclimatisation. The summit night was by far the hardest part but well worth the effort (even I got emotional). I would urge everybody looking to climb Kilimanjaro to definitely train for a good 4-5 months before attempting this challenge, it will only enhance the mammoth achievement.
Verified
Fantastic time climbing Kilimanjaro thanks to TTC! I recently completed a climb of Kilimanjaro with a small group of 7, managed on behalf of Charity Challenge by Tanzania Travel Company. We had a fantastic (if gruelling) experience, and I cannot praise TTC highly enough. From the MD Sam and our chief guide Richard, through to every guide and porter who accompanied us (not forgetting Pius, our doctor), everyone combined the highest standards of professionalism with warmth and friendliness, and a genuine concern for both our well-being and our success in getting to the summit. Highly recommended.
Verified
Amazing family experience Excellent safari! Incredibly friendly and accommodating! I was having some difficulty finding a well priced thorough safari and was given a number by a family friend who highly recommended this safari company. As Tanzanians it's rare for us to be able to see a safari but Samuel helped guide us through a plan for a truly unforgettable experience. We hide an amazingly well educated guide and driver Kamau who went out of his way to get us some truly amazing shots. At one point we were literally 2-3 meters away from 3 young male lions, I was in shock at what Kamau could point out. Food provided was excellent Tanzanian cuisine. My little brothers(8 yr)first safari and he had a fantastic time Highly recommend as a Tanzanian.
Verified
Professional, organised, outstanding Tanzania travel company are a great company, incredibly professional and organised a comprehensive and well planned trip to Kilimanjaro. The communication and attention to detail were outstanding and I would highly recommend this company to any group heading to Tanzania. Suzie, International Mountain Leader (BAIML), Women with Altitude co-ordinator.
Verified
Excellent experience with TTC! Setting out to climb Mt Kilimanjaro was quite a challenge and the team at TTC made it a safe and enjoyable trip! They did an excellent job guiding us through each day of the climb. I also had the opportunity to go on a safari afterwards with a guide named Livingston and he did an absolutely fantastic job getting us close to the animals and knowing the best spots in the game drives. Highly recommend this incredible travel group!